Little Blossom Wiki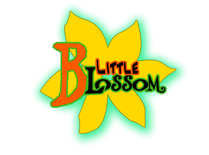 Format
Teen dramedy
Created by
Justine Wasserman
Raishel Wasserman
Rhiannon Goodrich
Directed by
Raishel Wasserman
Justine Wasserman
Starring
Kirby Page-Schmit
Bridgette Patchen
Charleen Powell
Christian Robinson
Jaclyn Gest
Anna Gibson
Peter Burghart
Haris Mahic
Anna Peterson
Country of Origin
United States
No. of seasons
1
No. of episodes
2 (List of episodes)
Production

Executive producer(s)
Justine Wasserman
Producer(s)
Sherri Wasserman
Michael Wasserman
Running time
approx. 36 minutes
Production company(s)
Wasserman Family Creations
Broadcast

Picture format
1080i (HDTV)

480i (NTSC)

Original run
Begins April 2010
New pages
Welcome to the Little Blossom Wiki
The Little Blossom Wiki is an encyclopedia about everything related to the upcoming online TV series, Little Blossom. The wiki format allows any registered user to create or edit any article, so we can all work together to create a comprehensive database about the upcoming series Little Blossom.
Content
About


Episodes

Characters

Locations


Pop Culture
thumb|300px|right|Watch the trailer for Little Blossom now!
About Little Blossom
When the tiny and only high school of Littlefield burns down, modern-day hillbillies Ken, Anabelle, Natalie, and Zederick must be relocated to the preppy public nearby school, River Blossom High.
Little Blossom is a Denver-based TV series created by Wasserman Family Creations.
The first two episodes were recently filmed and will be released in March/April of 2010. The show was created by three young women between the ages of 18 and 21: Justine Wasserman, Raishel Wasserman, and Rhiannon Goodrich. The general idea of the show came from different stories they had heard in high school and college.
News
Little Blossom was created. [December 11, 2008]
Auditions began. [February 2009]
Filming for the first two episodes begins. [August 1, 2009]
Filming for the first two episodes wraps. [August 25, 2009]
The first two episodes are currently in post-production and undergoing video editing. [September 10, 2009]
The first two episodes are currently in post-production and undergoing sound editing. [January 6, 2010]
The Little Blossom Fan Page on Facebook reaches 5,000 fans! [February 7, 2010]
The Little Blossom Official Trailer reaches 20,000 views on YouTube [February 1, 2010]
DVD being created and prepared for distribution. [March 10, 2010]
Premieres for cast and crew. [April 6, 2010]
Links
Little Blossom Official Website
Little Blossom Facebook Fan Page
Which Little Blossom Character Are You? Facebook Quiz
Little Blossom Youtube Channel