Christy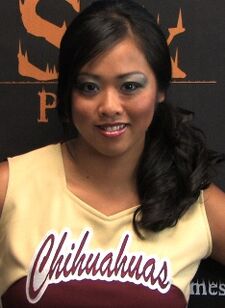 | | |
| --- | --- |
| First appearance | 1.01 "How To Deal With A New School" |
| Created by  | Raishel Wasserman, Justine Wasserman, and Rhiannon Goodrich |
| Portrayed by  | Ariel Pham |
Information

Name
Christy
Age
16
Schools
River Blossom High
Town of Origin
River Blossom, Colorado
Friends
Candy Kane
Catie
Christy, portrayed by Ariel Pham, is a student at River Blossom High School.
Character Overview
Edit
Christy is a member of the River Blossom Chihuahuas cheerleading squad. She is a member of the 3 Cs.
Personality
Edit
Often seen twirling her hair and doing word searches in class, Christy is the dumbest and ditziest of the 3 Cs. She is very needy and is always trying to get the attention of her friend Candy. She finds both of the guys Candy likes, Zach and Brad, to be repulsive.