Ashley Scott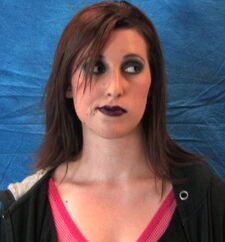 First appearance
1.01 "How To Deal With A New School"
Created by 
Raishel Wasserman, Justine Wasserman, and Rhiannon Goodrich
Portrayed by 
Anna Gibson
Emma von Tscharner (little Ashley)
Ashley Scott, portrayed by Anna Gibson as a teenager and Emma von Tscharner as a child, is a student at River Blossom High School. She is the daughter of Charles Scott and Rebecca Scott.
Character Overview
Edit
"Meet Ashley Scott. Ashley hates the world. The world hates Ashley."
Ashley comes from an incredibly troublesome home life. Her father has been physically abusing her since she was a child. She's afraid to let the world around her know what's going on, even her best friend, Shelly Ross. She often releases her fears and feelings into poetry on her online blog.
Personality
Edit
Most likely because of her home life, Ashley has a lot of attitude. She's wary of other people and therefore will come off as unfriendly. Coming from a family with little love, Ashley desperately wants to be loved by somebody.