Anabelle Morgan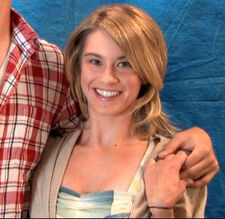 | | |
| --- | --- |
| First appearance | 1.01 "How To Deal With A New School" |
| Created by  | Raishel Wasserman, Justine Wasserman, and Rhiannon Goodrich |
| Portrayed by  | Bridgette Patchen |
Anabelle Morgan, portrayed by Bridgette Patchen, is a student from Littlefield High School.
Character Overview
Edit
"Meet Anabelle Morgan. Anabelle dreams of life in the big city, but she's still small town at heart."
Anabelle lives with her over-bearing, ultra-religious mother, Mrs. Morgan. She enjoys reading the popular teen girl magazine, Glitz Magazine, though her naivety often leads to misinterpretations of the articles.
Personality
Edit
Anabelle is sweet and naive. She rarely takes offense to anything, and always wants to make new friends. She also wants to fit in, even if she has to rebel a little against her mother to do so.
Relationships
Edit
Anabelle is inseparable from her long-time boyfriend, Ken Harris.